Next on CBS: Big Brother!
So apparently Mark Dantonio doesn't take kindly to Mike Hart referring to his program as the little brother in the state. I don't know much, but I do know that it is HI-LARIOUS to watch a rival coach have Mike Hart get so far into his head that he feels the need to comment on it at his press conference two days after the fact.
Let's just run through a little time line of sorts to provide a background to this and some other nonsense.
September 17th, 2005 - Michigan State beats Notre Dame and proceeds to plant a flag at midfield in South Bend (HT for the reminder of this to
MGOBLOG
).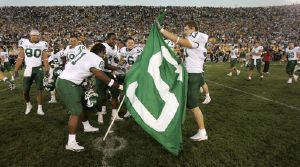 September 1st, 2007 - Mark Dantonio offers to have a moment of silence for Michigan after being informed that they just lost to Appalachian State.
Here's a thread at the RCMB
pretty much dedicated to how awesome that quote was and how much they love their new coach.
October 30th, 2007 - Coach Dantonio, the same guy that installed a clock counting down to the Michigan game before the season even started,
asks his players if they are ready to stop bowing to Michigan
.
November 3rd, 2007 -
Michigan beats Michigan State 28-24
on the field, once again coming from behind to beat MSU in dramatic fashion.
November 3rd, 2007 - Michigan celebrates
the victory
by having a mock moment of silence on the field for the Spartans and then bowing to Dantonio.
November 3rd, 2007 -
Mike Hart in the postgame press conference
...
"I was just laughing," Hart would later say about the crazed crowd when MSU was leading. "I thought it was funny. They got excited. It's good. Sometimes you get your little brother excited when you're playing basketball and let him get the lead, then you just come back and take it back."
November 3rd, 2007 -
Jehuu Caulcrick's postgame press conference
where he whines that "You don't have to rub it in...you go off the field, you celebrate with your team...you don't try to rub it in, that's a lack of respect". Sorry Jehuu, after planting a flag at midfield you aren't allowed to complain about this EVER.
November 5th, 2007 -
Mark Dantonio goes off
about everything except the beating his team took in his weekly PC...
"I find a lot of the things that they do amusing," Dantonio said on Monday. "They need to check themselves sometimes. But just remember, pride comes before the fall." Dantonio also addressed Mike Hart's comments after the game in which he referred to MSU as the "little brother" of U-M. "Does Hart have a little brother or is he the little brother?" Dantonio asked. "I don't know, he's…" Then Dantonio placed his hand up to his chest to illustrate Hart's stature.
I mean where do you even begin commenting on this stupidity? Caulcrick having the stones to criticize the way Michigan celebrated their victory after his showmanship a few years back? Dantonio making fun of Mike Hart's height two days after the game? Anybody having the balls to criticize Michigan's moment of silence after the wise cracks coming from the MSU side when Michigan lost to Appalachian State? It's insane. The entire Michigan team from coaches to players kept the mouths shut all season long regarding MSU. They didn't say a word about the Spartans, while MSU continued to take little shots here and there. Then Michigan wins (AGAIN) and let's the Spartans know what they thought of their antics before the game and the entire Spartan world takes offense to this?
PUHHHLEEEEEEEZ
Don't whine about being called Little Brother if you can't stop obsessing over every little detail of your latest loss to Michigan. Don't go bragging about how Michigan will get theirs and about the latest round of revenge you'll be seeking next year after Mike Hart tells you all about what he thinks of your program. Guess what, for the rest of his life he's 4-0 against Michigan State with a pair of 200+ yard games on the ground and a pair of 100+ yard games on the ground. From here to eternity, he can always point to the scoreboard.
Oh, and it might help if you got a head coach that didn't insist on trying to piss off Michigan. I got news for you, taunting them in the papers and threatening swift revenge next year isn't going to make winning any easier.
Labels: Michigan Football